AC&A Officers
Tia Hagnas, Founder & President
Marie Brewer, Vice President
Daryl Majkowski, Treasurer
Eric Moinet, Secretary


Contact Info
Alley Cats and Angels
PO Box 785
Apex, NC 27502
919-303-3500
info@alleycatsandangels.org
www.alleycatsandangels.org

Upcoming Events

We have lots of adoption events coming up (events every weekend in August and September) Please visit our website to view upcoming events.

---
$ Every Dollar Helps $

Alley Cats and Angels is run entirely by volunteers and supported solely by donations. We are a 501(c)3 organization, all donations are tax deductible. Your support helps us continue our life saving mission.
---
Spotlight On...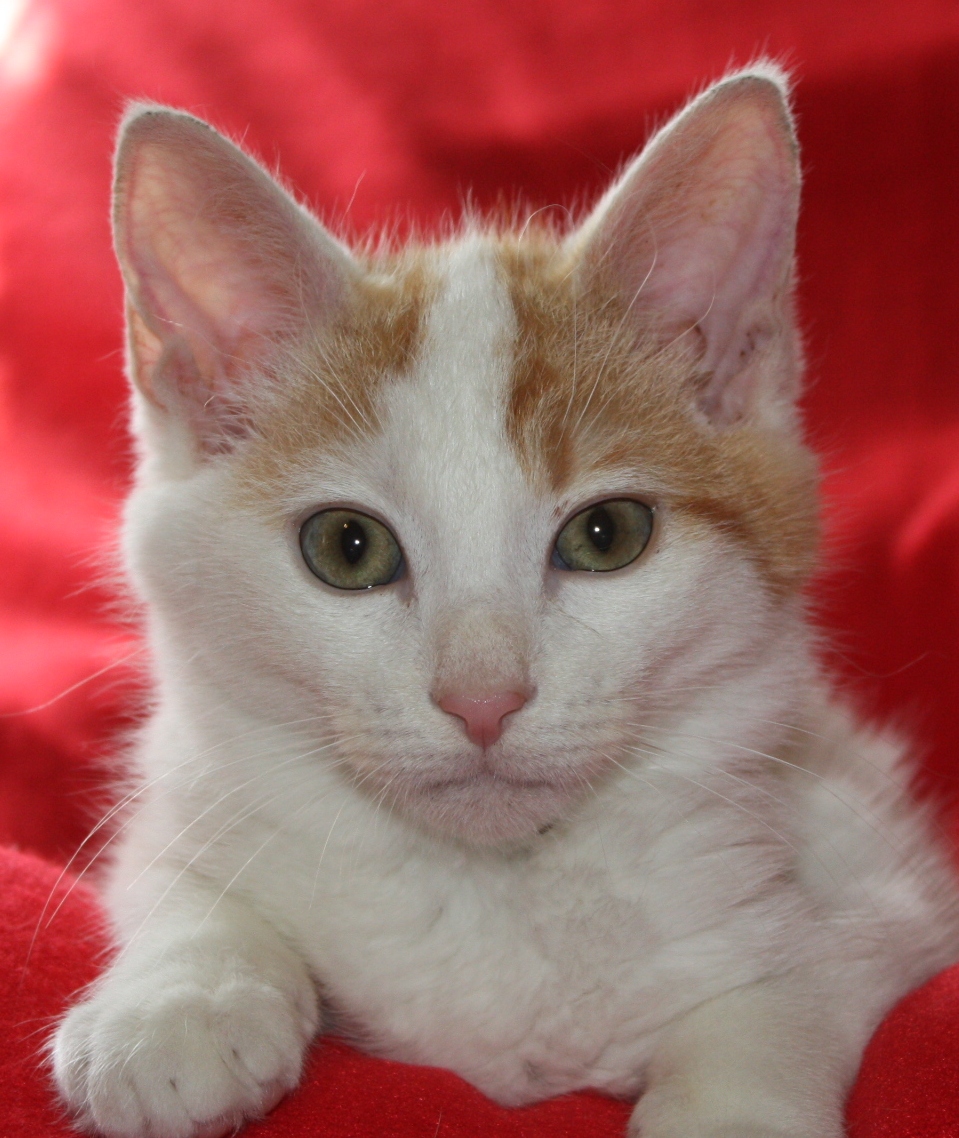 Meet Zander- our social butterfly. This boy is super sweet and loves, loves, loves other kitties! Zander would make a great addition to any home and the family that adopts him will be very lucky to have such an incredible cat.

More available cats
Ongoing/Upcoming Fundraising Efforts
Coins for Cats: We know money it tight but everyone has spare change. Collect your spare change in soda bottles, baggies, coffee cans - whatever container you have on hand. When you're ready, bring the coins to us at one of our adoption events (visit our website for weekly updates on adoption event locations). Donations receipts for tax purposes will be provided upon request. As always, every dollar (um, cent!) goes directly to care for the cats. Your spare change can quickly add up and make a big change in the lives of the cats we rescue.

Collecting and recycling aluminum: We recycle aluminum cans. Please rinse and save your cans for us. All monies from recylcing cans benefits our Alter an Alley Cat fund. In 2009, the money from cans paid for 3 surgeries. This year to date, we've raised enough money from cans to pay for 5 surgeries so it really does add up!


iGive: Shop online with iGive and select Alley Cats and Angels (North Carolina) as your rescue of choice and a portion of the sale will be donated to us.

Shop for your dog and help the cats! Order dog chews, bones, and other items from US Bones (http://usbones.com/) and select Alley Cats and Angels, NC as the recipient organiztion and US Bones will donat 25% of the sales to us.

Wish List
Monetary donations to help offset medical bills
Purina One Healthy Kitten dry food
Purina One Chicken and Rice dry food (for adults)
Donations of dry cat food to help local feral cat caregivers feed their feral colonies
Sponsors for our Alter an Alley Cat program
Gift cards to be used for purchase of food and litter (PetSmart, Petco, WalMart, Target, BJ's, etc.)
Gas cards to offset fuel costs of barn cat relocations and equipment pickup
The Great Mobile Park Rescue
Homestead Part 1: Late on March 16, Alley Cats and Angels received a phone call and email pleading for help for cats that needed to be removed from their current living situation by March 19. The sweet older couple had worked hard to rescue cats from the trailer park where they lived but when they went out of town for a day, a water main under their trailer broke and damaged the trailer beyond repair. The couple had saved the cats from their neighborhood but now the cats needed to go because the trailer was uninhabitable. Time was of the essence so we visited the house and evaluated the situation the next evening. The initial assessment was difficult -- it was the first time we had been the "initial responder" and we were not quite prepared for what we would find. Most of the cats appeared to have severe respiratory and eye issues and it was just a heart wrenching situation After talking with the couple and meeting the cats, we knew we had to spring into action immediately. The next day was spent coordinating the rescue effort; almost every rescue group was full because of several large hoarding situations, but several groups were able to take in a few cats each and we took the rest (thanks to Safe Haven, Hobbes House, Best Friends Pet Adoptions, and Paws 4Ever). On 3/19, we were able to pull 17 cats from the home, although it did take some begging and negotiating to get the couple to surrender a few of the cats to us. In the end, the couple kept their one 12-year old spayed cat and one cat that had lived with them for several years with the caveat that it be spayed immediately and we would sponsor the spay (spay/vaccination was done the following week).

Homestead Part 2: In Homestead Part 1, we told you the story of the Homestead mobile home park and the unimaginably desperate circumstances. One rescue of 17 cats, a few of which have still not found their forever home due to excessive shyness. Imagine how surprised we were to receive multiple desperate pleas for help from a family living in the same trailer park. They had an estimated 30 cats swarming to their house on a daily basis for food and once again trailer park management had called animal control for another sweep (and guaranteed euthanasia) of these relentless breeding machines. We initially went out and assessed the situation, but had no money to spay/neuter 30 cats. A few weeks later, we had the funds to spay/neuter at least 20 cats, thanks to one of our most dedicated donors. By that time, there were at least six pregnant cats. As we quickly began our work to stop the population explosion, we vetted and then rehomed 12 cats to barn homes before returning some back in the neighborhood. One night as we arrived we found one of the momma cats on the front porch in labor. We quickly prepared a trap with a cardboard lining and while she was taking a break from birthing the second and third kitties, we slipped her and her babies into the trap where she had her third baby, and later that night in a bathtub at the foster mom's house, she birthed her fourth. Over the next few days we played a game of hide and seek with other mommy cats and kittens. A couple of kittens were found under the trailer near the foundation and we also found a litter of kittens in the insulation under the trailer. Oh wait -- is that a kitten over there that just meowed? All in all we rescued 16 kittens; some of those have now found their forever homes, but a few of the "US kittens" are still available for adoption.

We were able to make a sizeable dent in this particular colony, but without additional resources we were not able to go back and make sure that all of them were spayed and neutered. We know that there are more pockets of cats in just this same predicament in concentrated pockets where limited income residents are unable to financially stop this cycle of overbreeding and animal control. We've also had additional stress put on our adoption program budget as we took in most of this kittens within minutes, hours, and just a few days their births making for a long 16 weeks to get through the vetting process.

Consider making a donation to our Alter an Alley Cat fund which will enable us to do more work to prevent future colony explosions in low income neighborhoods and promote prevention everywhere. We really hope there is no Homestead Part 3. Please note "Alter an Alley Cat program" on your donation.

Our Extra Special Cats Requiring Extra Special Care
We don't shy away from taking in cat/kittens with medical issues. As long as we have the space, we will take the cat in even knowing it will require a lot of medical care and expense. Below are just a few of our special cats; to date, these cats have required well over $1,600 in non-routine medical/surgical care, with more to come for Cassie in the next few months.

Zammie came to us after being left outside the back door of a local pet store. Zammie has Ehlers-Danlos Syndrome, meaning he has very fragile skin. Zammie's medical bills for non-routine medical care are almost over $850 to date.


Hayley Mills came to us as a 1.5-2 week old kitten whose eye had ruptured. After emergency eye enucleation (removal) surgery, she fully recovered, is too cute for words, and is now available for adoption. A big thank you to Dr. Jodi Reed, Harmony Animal Hospital (Apex) for her great surgery skills and her care of Hayley. Also, a big thank you to Beamer (Hayley's foster mom), for all her loving care and bottle feeding of this precious girl. And a thank you to Tana for opening her heart to Hayley and providing her a forever home.

Meredith Grey, one of the Grey's Anatomy kittens, had an encapsulated hernia and required a partial bowel resection. Meredith's surgery was almost $500.

Cassie came to us after being found locked in an attic with her sibling at around 2 weeks of age. This little one has upper eyelid agenesis - meaning she does not have any upper eyelids and as a result, the hair surrounding her eyes scratch the cornea and she is almost blind in at least one eye. When Cassie is 4 months old, doctors at Animal Eye Care will remove the hair around the eyes and evaluate Cassie for next treatment steps.

Our supporters are an important part of our life-saving work; without your support we would not be able to take in extra special cats like Zammie, Hayley Mills, Cassie, and Meredith Grey. We operate solely on donations and adoption fees and adoption fees do not fully cover the costs of basic medical care for each cat. Won't you please make a donation to help cover their medical costs or to help care for the 120+ cats kittens currently in our adoption program? Please note "general medical fund" on donation.

Kitten Season Adoption Special
With so many cats and kittens needing great homes, we have reduced our adoption fee through September to just $60 for our fully vetted cats. How can we afford to do this? Well, we really can't but with so many local rescue groups reducing their adoption fees for the summer, we must reduce our fee also in order to find our rescued babies homes. Your donations will help offset the deficit between adoption fees and the cost of medical care.

New Board Members and Our TNR Task Force
Alley Cats and Angels is pleased to announce the addition of Tricia Andrew and Marie Pickering to our Board of Directors. They will head up our expanded Feral Cat Education and Assistance program and lead our newly formed TNR Task Force. The Feral Cat Education and Assistance program is the foot soldier fighting overpopulation -- the initial impact will curb the growing feral cat population and the benefits will be long lasting as breeding stops. We are very excited about our TNR Task Force as it is yet another step we are taking in our commitment to help end pet overpopulation.

Saving Lives through Prevention -- Alter an Alley Cat
We may be a small organization, but we are a mighty one! As of August 1, 2010 (including Spay Day), Alley Cats and Angels has spayed/neutered and vaccinated over 85 cats in low-income housing and feral cats through our Alter an Alley Cat program. Systematic spay/neuter is the only way to effectively help end pet overpopulation.

Annual Report
Alley Cats and Angels accomplished so much in 2009 and we couldn't be more proud. We are sure you'll agree that our first full year as an organization was nothing short of amazing as you read our 2009 Annual Report. Visit the following link to read the report: http://alleycatsandangels.org/AlleyCatsandAngels_2009AnnualReport.pdf.